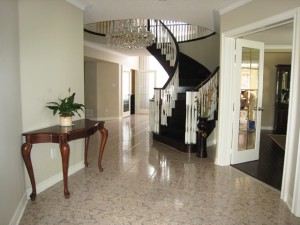 Redecorating your home will involve a significant investment, in terms of both time and money. With this in mind, it is crucial to get the basics right: you need to make sure that the colour schemes you choose for the various rooms in your property complement each other and suit your personal preferences too. This is not always as easy to accomplish as it sounds, owing to the fact that the colour of paint varies according to the lighting conditions under which it is viewed. However, with the help of a talented colour consultant, you can ensure that you make the right choices first time and end up with an interior décor of which you can be proud.
Anita Ricci has helped hundreds of local homeowners to create beautiful interior designs in their properties and would be delighted to do the same for you. Whether you are tackling one room or your whole home, get in touch with her today to discuss your requirements.
Light and Colour: How a Home Colour Consultant in Toronto Can Help You
If you were to visit your local stores and look at the colour samples they have for various brands of paint, you would probably find quite a few that appeal to you. However, colours that appeal to you when viewed under fluorescent strip lighting in a shop could look very different when applied to the walls of your living room or hallway. For this reason alone, it is a good idea to hire a professional consultant when tackling a major redecoration project. Your home colour consultant in Toronto will be able to help you choose tones and hues that will look good in the lighting conditions that prevail in your home and that will work well together too.
What Else Can Your Consultant Do for You?
In addition to accurately predicting how certain colours will look under certain lighting conditions, an experienced consultant will be able to help you build your own personal palette: a selection of colours that fit your tastes, lifestyle, and property perfectly. If you want to make sure that your home looks exactly as you would like it to after your next refurbishment/redecoration project, talk to Anita Ricci and take the guesswork out of getting the colour schemes right. As a highly experienced and talented home colour consultant in Toronto, Anita will be able to guide you through the maze of paint choices available to the modern homeowner and ensure that your new interior décor is everything you ever dreamed it could be.
Complete Honesty Is the Key
In order to make the most of your consultant's skill set, you need to be completely honest about your preferences. Let Anita know which colours you have always liked and which you cannot stand, and she will be able to create a colour scheme that you fall in love with at first sight. Do not worry about the latest trends or fads: your home colour consultant in Toronto is here to help you, not to judge you.