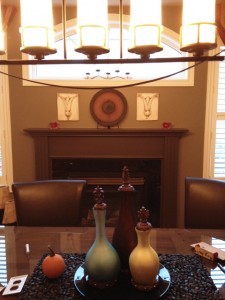 Many homeowners handle interior décor choices such as colour schemes, furnishings, and lighting fixtures by themselves, or with the assistance of the painters and decorators they hire to work on their property. The idea of paying a professional interior design consultant for their opinions may seem like a needless extravagance as far as the majority are concerned. However, once you have completed a redecoration project with the assistance of an experienced interior décor consultant, you will wonder how you ever managed on your own. A talented designer like Anita Ricci can make an enormous difference to the results you achieve when redecorating your home, more than justifying her very reasonable fees in the process!
How to Work with an Interior Designer in Vaughan or Elsewhere
If you like the sound of working with an experienced interior design expert but you are not sure how to get the most out of it, consider the points below.
Compatibility – It is not really important if your furnace maintenance man has completely different tastes to you and is difficult to converse with but if you are to make the most of what an interior designer in Vaughan has to offer, you will need to find a consultant whose personality is a good fit with yours: a professional designer who you can talk to without trying too hard and who hopefully has similar tastes as far as furniture and interior décor are concerned.
Consistent Communication – Designing the interior of every room in your house is not a task that can be completed in a couple of hours. It is a task that should be approached with a fair amount of patience and with the expectation that a number of iterative changes will need to be made to the overall design before it is declared complete. During the iterative design phase, it is vital that you stay in touch with your interior designer in Vaughan on a regular basis. You may be paying them to come up with great ideas but you will want to have an input at every stage too: after all, it is your house that will be the focus of all this hard work.
What Your Interior Design Consultant Can Help You Achieve
If you decide that you would like us to assist you with your next redecoration project, we will make sure that by the time we have finished, the interior of every room in your home will exceed your wildest dreams. We aim to provide a wow factor on every job we undertake that makes our clients step back and pause for breath when they see the finished result. We will take your ideas and preferences, refine them into designs that make every room a pleasure to spend time in, and ensure that when viewed as a whole, the designs for each room unite your home into a beautiful whole. Call the best interior designer in Vaughan today to start your redecoration venture on the right foot.