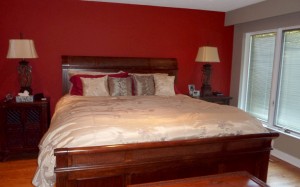 When's the last time you repainted your home? If it's been a while, chances are that your colours are looking a little outdated. With trends constantly changing, it's difficult to keep up with the latest fashion. In this post, we'll tell you which colours to use to bring your home up to date in 2018. Read on to find out which colours will be in high demand this year.
Colour Trends to Look Out for in 2018
Berry-Inspired Shades – Whether it's a deep cherry, a warm raspberry or a bright strawberry, a berry shade is sure to look great in your home this year. These shades can be rich and striking, adding depth to any room. They're also easily paired with sleek furnishings.
Dusty Rose – This muted hue provides a more classic, sophisticated look than a pinks and red, which can often be too overpowering. This chic shade keeps things neutral.
Back in Black – Black never goes out of style. It can make any room look sleek and sexy, whether it's a bedroom, office space or bathroom. Now is a great time to boldly deck out a room in all-black, if it's something you've been considering. If that's a little too much for you, try adding black accents around the room instead. Best of all, it can be combined with just about any colour.
Deep Purple – Purple is a statement colour, and this year is the best time to use it. Instead of going for washed-out, pastel lavender, choose a stronger, richer shade. It's an especially good choice if you're looking to combine two of this year's hottest trends. If black is too dark, but berry is too bright, purple is the perfect colour in between the two.
Lemon and Lime – Don't be shy to use these eye-catching colours in 2018. According to our Vaughan paint colour specialist, they're more popular than ever. Bright shades of green are now considered tech-inspired colours, which are great for creative spaces. Vibrant yellows are in style, too. They add a touch of energy and playfulness to a room that people will love.
Calming Blues – Light blue-green shades are currently a great choice for sanctuary spaces. They're strongly associated with a calming effect that's perfect for quiet spaces such as bedrooms, offices and living rooms.
How a Vaughan Colour Specialist Can Help You
When you've chosen a colour you love, you're only half-way there. Every individual space is different, and finding a way to make a colour look just right takes skill and expertise. That's where the professionals come in. Bright Ideas is a Vaughan colour specialist with years of experience. We'll not only choose the best colour scheme for you, but also work with you to choose all the subtle details to achieve the results you're looking for. To arrange for a colour consultation, contact us on 416-671-6236.