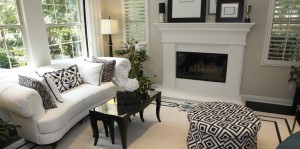 There are some interior decorating rules you should adhere to if you want to avoid making a complete mess of your next home renovation project but there are quite a few that it is fine to break if the occasion calls for it. The problem for most amateur painters and decorators is that they are not sure which rules it is safe to break and when it is safe to break them. After reading the advice below, condensed from a conversation with one of our in-house experts, we hope you will be in a better position to decide when you can deviate from received wisdom and when you should stick to the rules.
Rules That Our Interior Designer in Vaughan Often Breaks
The following rules can all be broken in the search for the perfect interior design, especially if you have the confidence and experience to go your own way.
Never Mix Periods – Some interior design professionals, usually those of a more conservative bent, believe that it is wrong to mix periods and styles but unless you are trying to create a museum exhibit, there is nothing wrong in mixing Georgian with Victorian, or Art Deco with Minimalist design motifs, as long as it is tastefully done.
Ceilings Should Always Be White – Whilst it is true that white has a number of advantages when it comes to ceiling paint, if you are creating a lush Moroccan interior and you fancy a deep red or even a glittery gold ceiling, you should go for it. Our interior designer in Vaughan believes that people need to trust their instincts when attempting to create more unusual interiors and not feel duty bound to follow conventional rules.
Chairs and Tables Should Always Match – Cast your mind back a few years and you can probably recall numerous homes with matching dining tables and chairs and if you spend too long thinking about the effect this furniture had on you, you may be in danger of falling asleep! According to our interior designer in Vaughan, mixing different wood tones, or even different species of wood, is perfectly fine and normally results in a far more interesting interior.
Bold Colours Only Work in Large Spaces – Lighter colours can help to make smaller spaces appear larger but if you would like to create the illusion of depth in a small room, combining darker, bold tones with lighter ones can work very well.
Never Use Fake Plants – Real plants are undoubtedly preferable if you have the time to take care of them properly but if you have a busy professional and home life, good quality silk plants are an excellent alternative to the real thing that will never wilt and die due to neglect.
If you are the sort of person that likes to break the rules but you do not have the necessary experience to do so with confidence when it comes to home décor themes, feel free to consult our interior designer in Vaughan whenever you wish.